In this article, we will be covering 5 important Steps and Tools to help you develop the best keywords for your chosen niche.
Why Is It Important To Do Keyword Research?
You can have the best affiliate product in the world, but if your buyers can't find your affiliate page, you would end up making no sale and in most cases, pack up and leave the online business frustrated.
That's where keywords come in: to help direct people who might be interested in your product, to your affiliate site and offers, otherwise called 'Targeted Market".
What Is Covered In This Article
Please note that we are eliminating some unnecessary processes promoted by other websites by giving the straight, direct and fast approach.
First is uncovering how to use your knowledge & experience about your niche to come up with ideas. We will then give you helpful sources for inspiration to expand on these initial ideas.
Truth be said that Keyword research can be a fairly time-consuming exercise, so we'll give you a little tip for categorizing useful sources.
Buyer intent is an important part of the selection process, to ensure you are finding the most profit-potential keywords, so we will give you some insight on that as well.
Then we will cover how to generate long-tail keywords, which are essential for targeting the most relevant search terms for your niche or product.
Life is always a little easier when there's less competition. Keywords are no different. So, we'll help you save time by trimming the words with the most competition from your list.
And finally, we'll cover how to pull all your research into a complete keyword list for optimal effectiveness when you make your website and content.
To begin, let's say our selected keyword is "diabetes". (Get your notepad or notebooks ready to take notes).
1. Manually Brainstorm Keyword Ideas
From personal knowledge of this niche, breakthrough researches are only common for Type 2 Diabetes, rarely would you find one with solutions for Type 1 Diabetes. Hence, my concentration would be on Type 2 Diabetes.
From experience, diagnosis for Type 2 Diabetes is primarily on the sufferers' Blood Sugar.
I also know that those who are interested in this niche would be searching for words or phrases like "How to reverse Type 2 Diabetes", "How to control blood sugar", "Solution for Type 2 Diabetes", Freedom from Type 2 Diabetes" ETC
However, you can also use an online Mind Mapping Tool called "MindMeister". Tutorials are available on the website.
1. Look For Seed Keyword Inspiration
Google is a place to look for inspiration. Typing words from your brainstorm above into a Google search will show you the top-ranking pages for those words. Have a look at some of them and see what words or language they use.
When you search with Google, it will show you "related searches" at the bottom of the page.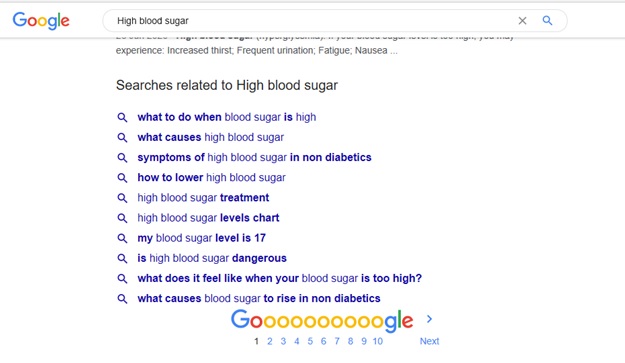 This is a really smart, fast, and easy way of getting popular relevant seed keywords that you may not have even known were there.
Searching for "high blood sugar" from my initial brainstorm has given me the term "what to do when blood sugar is high", "how to lower high blood sugar", "high blood sugar treatment" as popular related searches, so I can add them to my seed keywords.
I would do the same with the other brainstorm keyword ideas.
If physical products on Amazon etc is your niche, let's say 'Shoes' this is how you can generate your Seed Keywords:
Looking at shoes on Amazon, if I select "Sort by: New and Bestselling" in the top right corner, I get a list of shoes that are top sellers.

The list also comes with hints about well performing products in my sub-niche. "Crocs Classic" seems to be a well liked brand for example, and "Garden Clog" is a descriptive word that potential customers could be searching for.
Let's say I looked at the sales page for this particular product.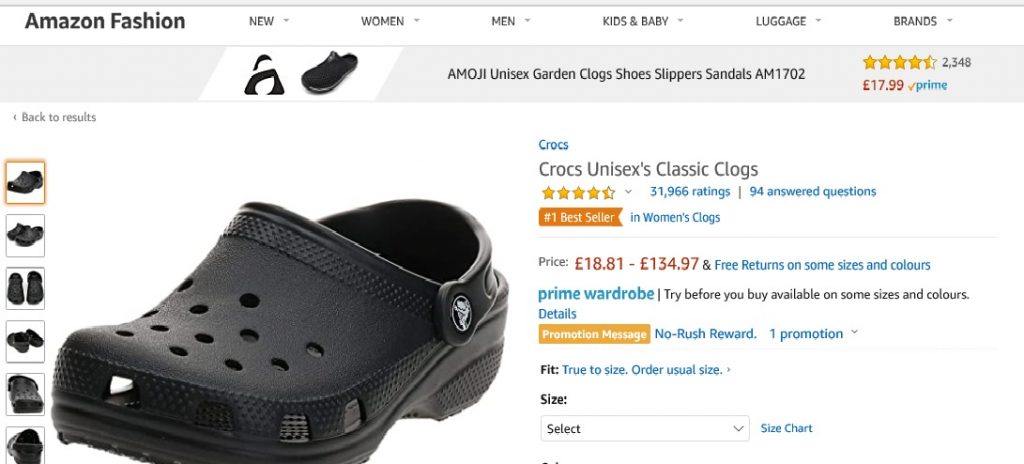 I learn that "Slippers Sandals" is a product type. This could be a seed keyword for this product. Scrolling down, I can look in the product description to find phrase like "the suitable shoe for beach or boat".
Underneath that, I can see the customer reviews. This is great for seeing what issues people have with products in this niche, and what they have found as a solution.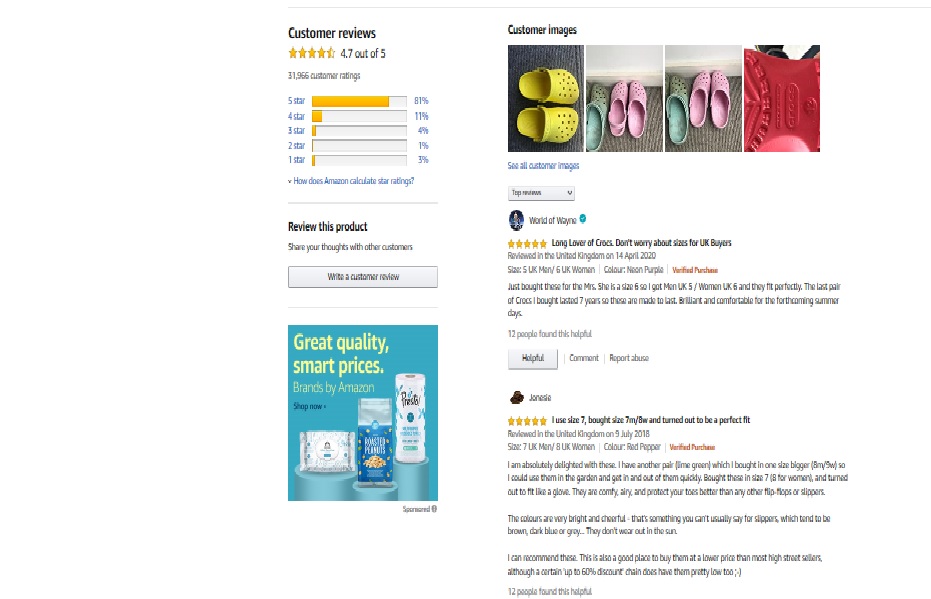 Customers value comfort, so "comfortable shoes" could be a good seed keyword.
However, Seed keywords aren't sufficient on their own, but having a wider range of quality seed keywords gives you the best possible chance later on when it comes to processing them into what you really want – that final winning keyword list.
Buyer Intent
This is a lot relevant for those using this information for physical products on Amazon etc,.
Buyer intent keywords are words or phrases that include the indication of a sale. In other words, adding words or phrases like "buy" or "lowest prices on" to the beginning of a keyword usually means that people are browsing with that keyword to buy.
You need to avoid using only keywords which get conversational or social attention, and instead discover what will get more hits on the sales end of the scale.
For example, someone searching for "shoes" could just be looking for general information, or could be bored and browsing. Someone who searches for "best price on peep-toe Nine West pumps" is practically gripping their wallet in anticipation of buying what they're looking for.
Keywords with buyer intent often have lower competition because they have a lower search volume than general words. But in theory, they have a much higher conversion rate when they are searched for, and that makes them a very valuable resource to explore.
Now that you have buyer intent on the brain, look through your keyword list and add in any missing transactional keywords.
Use Tools to Generate Long-Tail Keywords
Like with buyer intent, the more specific your keywords are, the more likely you are to get people who actually want your product. This is where long-tail keywords come in.
You can use tools like Ubersuggest or AffiloTools to develop a list of highly-targeted long tail keywords. I'll show you how easy it can be.
With Ubersuggest, you can start plugging in those ideas you came up with earlier and you can download the results as a CSV file, including useful data such as search volumes and Costs per click.
In this example, I'm entering "type 2 Diabetes", making sure the relevant country is selected, and then clicking "search" to get all the results.

And there you go, it generates lists of keywords that people are searching in relation to your words.
At this point, you can search to your heart's content. Take phrases that show up from one search run and then add them to the search box for even more ideas.
Keep a list of all your keyword data by exporting it to CSV so you can organize and refer to it later. By the end of this stage, you should have a rather large inventory of relevant keywords. So out of that multitude, which ones do you really want to use?
Filter Out High-Competition Keywords
This is where the filtering process comes in. We've expanded our list further and further to get the best scope possible, and now it's time to refine them for true quality, using Traffic Travis.
You can also use Google Keywords Tool if you wish.
With Traffic Travis, it's easy to determine the search competition for any given keyword.
When Traffic Travis is loaded (Register and download the Free Edition), make sure you have the SEO tab selected, and then choose the competition option within that.
Click on the Keywords typing box, and a small window will pop up for you to enter keywords into.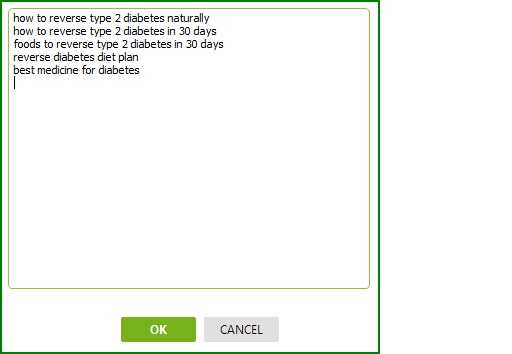 ​
Copy and paste your keywords in groups – Maximum of Allowed in the Free Edition – Click "ok", and then "Fetch".
Let the search do its thing! You can then see the difficulty levels of different words.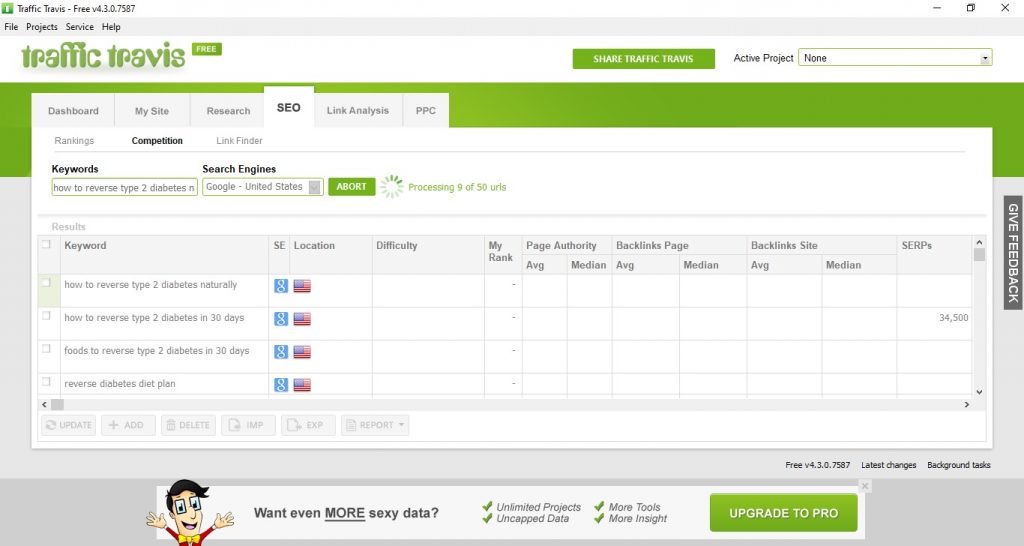 "Shoes" and "buy shoes" are very general, so it makes sense that they have a result of "very difficult", whereas "best price on peep-toe pumps" is a little more specific, and has a medium difficulty.
You want to eliminate words with "high difficulty" wherever possible, especially if you are a new affiliate, as your chances of ranking high enough with them are unlikely.
Make sure to export these search results to CSV so you can organize and refer to them later.
Click "Report" at the bottom, Select the CSV Option and "OK", leaving the default SEO Competition Summary.
Make Your Final Keyword Selections
So now that you've eliminated low search volumes and undesirable competition, it's time to make a primary keyword list that consists of the best 30 or 40 keywords for a beginning site. You'll want a larger list for larger sites.
KEYNOTE: "The higher the search volume and the lower the competition, the better".
So, make your selections with this in mind.
For Physical Products – Those transactional keywords are the most important after that initial rule, because of their higher level of profit potential.
With that in mind, you've worked for these results! Be sure to use them to help guide your content-creation and marketing efforts going forward. Use a maximum of 5 keywords per page, but preferably less.
A last quick tip for your keyword strategy is to only use as many keywords per page as you can naturally fit into your content without spamming or listing.
Because, if you are just pumping the page full of keywords, you will put search engines and people off, and they won't come back to your site.
Conclusion
We have shown you how to develop your seed keywords. We started with brainstorming using your own knowledge & experience of your niche or using MindMeister, and then developed our inspirational sources to save for later.
We stressed the importance of buyer intent or "transactional keywords" in your keyword research process for those promoting physical products on Amazon etc
With the seed keyword list all up and running, we expanded the quality and variety of keywords with tools such as AffiloTools and Ubersuggest. Traffic Travis then helped us to eliminate the highest-competition words, to end up with our final keyword selection.
What Next?
It's time to get started on your own keyword research, beginning with that seed keyword phase. Make use of the Tools as much as possible. Once you've gone through the process, you can save your final list and start applying them to your website.
You can also watch out for our next article on quicker alternative ways of doing Keyword Research.