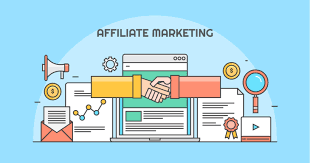 If you have followed the steps outlined in the article on "How To Know What Your Customers Want" you would have found groups of people interested in every topic and activity you can think of, but some niches are more profitable than others as pointed out in the article on "How To Find Profitable Affiliate Marketing Niches",
Here, we present you 20 of the MOST Lucrative affiliate marketing niches out there. However, it must be mentioned that, to make your affiliate marketing business a success, you need to look for the smaller sub-niches within those larger niches you found in the last article – that is the passport to a profitable niche affiliate website.
You have probably heard of "The Big 3 Niches", namely: Make Money Online, Weight Loss and Relationship – They are undoubtedly the MOST Lucrative of all Niches.
People shy away from them because of the 'High' and 'Stiff' Competition in ranking to make money from them.
The Make Money Online Niche is therefore not included in this list.
Here's a count down of 20 of the best niches for affiliate marketing in no particular order:
1. Personal Development
Everyone wants to improve and be the best person they can be. Whether that means learning to be more confident, more focused, spending more time with family, or earning more money, everybody has personal goals that they want to achieve.
Personal development products and courses tap into that desire people have to improve and accomplish their goals.
The universal appeal of personal development has helped the industry grow to be worth a predicted $13.2 billion by 2022.
For affiliates, the great thing about the personal development niche is the number of digital products and courses that offer a commission of up to 75%.
2. Health & Fitness
Research from the International Health, Racquet & Sportsclub Association (IHRSA) reveals that the $30 billion US health and fitness industry has been growing by 3% every year for the last decade.
There's no sign of this popularity dipping any time soon, making it an excellent niche for affiliate marketers.
This vast industry is filled with profitable sub-niches. The $230.7 billion global supplement industry is expected to grow 8.2% by 2027.
Around 76% of Americans take dietary supplements, and you can find affiliate offers from supplement providers that offer commission up to 30% of the sale price.
You could also create an affiliate website that is focused on a specific sport or activity.
For example, running is a fitness activity that millions of people all over the world do every day.
Hence, you could review 'running shoes' and 'gadgets' sold on amazon, target keywords opportunities with informational content, and promote digital products and courses from ClickBank.
3. Travel
Low-cost flights have made travel more accessible. It's easier and cheaper than ever before for people to explore the world.
Online spending on travel and tourism has consistently increased over the last decade, rising to $817.54 billion in 2020:
Travel is one of the biggest affiliate marketing niches around, and you can find lots of great affiliate offers and products to promote.
You can start an affiliate site for a particular destination and recommend hotels and flights, or create a review website recommending the products that people need for trips to different countries and destinations.
There are so many keyword opportunities and sub-niches, you can quickly establish yourself as an authority on a particular travel topic or destination.
4. High-Cost Hobbies
It sounds simple, but the most profitable niches are the ones where people are willing to spend money.
Expensive hobbies are great for affiliates because they have an existing audience that is willing to purchase expensive equipment and products.
The higher the price of the product, the more you can earn per sale that you generate.
Golf is a sports hobby that millions of people around the world play and spend money on every year. If we look at Google Trends, you can see that golf receives consistent interest every year:
While interest peaks during the summer months, people spend money on golf equipment throughout the year.
As an affiliate, you could start a website on golf techniques and promote digital products, or you could create a review website specializing in golf clubs or golf carts.
Another way to monetize a golf site would be to promote golfing vacation offers and golf resorts.
5. Beauty & Cosmetics
The rise of social media has made an enormous impact on the beauty and cosmetics industry.
Recent years have seen an increase in demand and changes to how consumers purchase beauty products.
More and more people are purchasing cosmetic products online, with Amazon seeing huge revenue growth from sales of beauty products. Over 50% of Amazon Prime members have purchased beauty products in the last 12 months.
Instead of purchasing from pharmacies and brick and mortar stores, people are turning to online retailers, creating an excellent opportunity for affiliate marketers to make money.
There are loads of affiliates operating in this niche, but there's still room to make an impact and gain a slice of the market for yourself.
You could create a review website for makeup products, or capitalize on the demand for information and create a how-to website with a YouTube channel to increase exposure and drive more sales and revenue.
6. Prepping
If we take a quick look at Google Trends, you can see that prepping has seen considerable growth in popularity over the last decade:
With such a large number of active preppers and increasing interest online, it's no surprise that a vast industry has grown around prepping and survivalism.
You could capitalize on this growing market by creating an affiliate site for beginner preppers, advising them on the kit and supplies they need.
Just like the pet niche, prepping has huge potential because of the number of sub-niches and topics it covers.
From food preparation and preservation to hunting and fishing, all of these topics are interesting to a prepping audience, and they all require equipment and materials that you can promote as an affiliate.
7. Pets – Food & Training
The pet market is a huge niche that is growing every year and offers enormous potential for affiliate earnings.
Around 70% of US households own a pet, and people are also willing to spend money on their furry friends.
In 2019, US households spent a total of $95.7 billion on their pets.
While the majority of the spending was on food, pet owners also spend big on luxury goods like toys, clothing, gifts, bedding, and even Halloween costumes for their pets. They also spend a lot on animal training, for instance dog owners are regularly searching google for how to 'stop dog barking', 'stop dog chewing', 'stop dog digging', 'stop dog aggression', 'stop dog bolting out the front door', etc.
You could tap into this growing market by starting a website focused on a particular dog breed, create a cat toy review website, or establish an authority website on aquariums and tropical fish.
There are hundreds of profitable sub-niches you can capitalize on.
8. Yoga
If you conduct a quick Google search for yoga classes, you'll see just how popular this activity has become.
In the previous five years, Google Trends shows that yoga has received consistently strong interest over time:
Not only is yoga gaining increasing popularity, but it's also becoming a huge market for business and affiliate marketers.
Throughout their lifetime, the average yoga enthusiast will spend $62,640 on equipment, classes, and yoga retreats. That's nearly $100 per month.
As an affiliate, you can make money by helping people to purchase the right products, recommending classes and yoga retreats, and promoting digital yoga products and courses.
This is a big market with loads of opportunities for affiliates to make money.
9. Home Improvement
Around 5.57 million homes are expected to be sold in 2021. When people sell their home, they spend money decorating the rooms in the property.
The same goes for new house buyers.
People spend money furnishing and improving their new property.
That's why home improvement can be a very profitable niche for affiliate marketers.
What's more, home decor is an evergreen niche that is robust to recessions and economic downturns.
Lots of people spend money on their homes as an investment to increase the value of their property.
In times of economic uncertainty, people look to consolidate their financial situation, rather than splashing out on expensive hobbies.
You can start a review website for amazon home decor products, or focus on luxury products and furniture where the commission can run into hundreds of dollars for a single sale.
10. Photography
The photography niche has boomed over the last decade.
People love to share their holiday snaps and photos on social media, and the number of young adults seeking to improve their photography skills and purchasing camera equipment has increased dramatically.
Nearly 17% of Americans aged 18 to 29 have practiced photography in the last year.
With more people interested in photography, the demand for courses and equipment has increased, creating more opportunities for affiliates to make money.
If you create a website and share helpful advice, tips, and recommendations, you can build an audience of photography enthusiasts willing to trust your reviews and monetized content.
People interested in photography are also willing to spend large sums of money on equipment and courses to help them sharpen their skills.
You can promote camera equipment from Amazon and other retailers, and you can also find high commission affiliate offers for photography courses on Clickbank and other affiliate networks.
11. Baby & Parenting
Around 140 million babies are born every year, with the global population nearly doubling over the last 40 years.
Not only are there a huge number of babies born every year, but new parents are spending an increasing amount of money on their children per year.
The average cost of raising a baby in the US for the first year is $21,000.
The baby care product industry is set to bring in over $109 billion in annual revenue by 2026:
You can help people to purchase the right products for their babies by creating an affiliate website recommending cots, bottles, car seats, and more.
You can also promote digital products and guides to help new parents deal with the problems of raising a child. There's loads of potential in this niche, and a vast amount of products you can promote.
12. Gaming
Multiple generations have grown up gaming, with gaming culture now well and truly mainstream.
Back in 2018, GTA V became the most profitable media title of all time, generating $6 billion in sales.
The majority of gamers are willing to spend hundreds of dollars per year on new consoles, accessories, downloadable content, and games.
It's not just consoles that generate huge revenue.
Mobile gaming has become a massive industry, with huge potential for affiliate marketers.
If you can build an audience in the gaming niche through video content or traditional affiliate reviews and recommendations, there's enormous potential for affiliate earnings.
13. Jewelry
Jewelry is an evergreen niche with great potential for affiliate earnings.
The rise of Instagram and online shopping have boosted jewelry sales, and the industry is expected to grow even more over the coming years.
Total global jewelry sales are predicted to reach $270 billion in 2020, with a healthy 5 to 6% annual growth.
Jewelry is a hugely diverse market that is ripe for affiliates to make money. While demand for jewelry is evergreen, you can also capitalize on the holiday seasons and valentine's day to further boost your commission.
You could create an affiliate site focused on luxury jewelry or build a website focused on a particular topic.
For example, husbands are always interested in purchasing jewelry gifts for their wives on special occasions.
You could create a site focused on anniversary jewelry and capitalize on that market.
Alongside your website, you could utilize social media as another source of traffic for your affiliate offers.
You can find offers paying 10 to 15% commission on jewelry products, and with the price for a ring or bracelet running into hundreds of dollars, that's a decent slice of affiliate income per sale.
14. Dating & Relationships Advice
The massive dating and relationships advice niche is popular with affiliates, but there's still plenty of room to establish a website in a sub-niche and make money.
The market for online dating services is set to reach $9.2 billion by 2025, with annual growth of 4.7%.
This niche is swamped with low-quality affiliate sites, but you can capitalize on this growing market by taking a different approach to what other affiliates are doing.
For example, older generations are becoming increasingly adept at using the internet, and they also have the disposable income to spend on dating services and apps.
You could create a seniors dating advice website and make money by linking to dating apps and digital products targeted towards older people looking for companionship.
Relationships are part of the human experience, so this niche isn't going to disappear any time soon.
15. Learning Musical Instruments (Guitar, Piano, Drums, How to Sing, etc)
Millions of people around the world play musical instruments, with millions more that want to learn.
The demand for information and products in this niche is constant.
There are hundreds of sub-niches, and if you can build an audience and recommend products and courses, you will make money in the music niche.
Music niche sites have a significant advantage over some of the other niches on the list.
The basic demand for learning to play a musical instrument never changes.
Once you've created your website and published high-quality content, with a little updating now and then, you can generate passive income for years to come.
16. Coffee
The average person drinks 3 cups of coffee per day, and there are over 24,000 coffee shops dotted across the USA, all contributing to an $87 billion per year industry.
While Starbucks and Dunkin Donuts are the largest names in US coffee, that's not where you are going to make your money as an affiliate marketer.
The growth of home brewing coffee has been tremendous over the last decade.
You can make money as an affiliate by capitalizing on the growing popularity of home coffee makers, grinders, percolators, and coffee beans.
You could set up a review website and focus on espresso machines and drip coffee makers, or target high-end gourmet coffee beans and tap into the luxury end of the market.
This is an excellent example of an affiliate niche with expensive products that can bring in affiliate revenue through reviews and recommendations.
17. Personal Finance
The personal finance niche has been responsible for some of the most well-known affiliate marketing success stories. Back in 2012, Martin Lewis sold his personal finance affiliate website Money Saving Expert for $107 million.
There are loads of opportunities to promote affiliate products and services in this niche, and lots of topics and sub-niches you can target.
As long as you help people save money or make money, there will always be an audience willing to hear your recommendations.
The key to breaking into a competitive market is offering something different to what's already out there.
For example, you could create a budget-friendly cooking website that helps people to save money on their weekly food shopping and review personal finance apps and services.
There's loads of potential for narrowing your focus onto a profitable sub-niche.
If you focus on helping people to make money rather than save money, you could promote digital products that offer high rates of commission.
18. Insurance
The insurance industry is one of the largest in the world. In 2018, insurance premiums in the US alone totaled $1.2 trillion.
With so much money being spent on insurance, it's no wonder that it's become a huge affiliate marketing niche.
There are many sub-niches within insurance, with people insuring their homes, cars, pets, mobile phones, and more.
The key to a successful niche insurance website is to offer value that people can't find elsewhere.
That value can be in the form of your high-quality niche content, or through an aggregator tool that helps people to find the cheapest insurance premium.
Insurance is a popular niche, but you can still break through if you narrow down on a specific sub-niche and offer exclusive value to your audience.
19. Home Security
Everybody wants their home to be secure, and with the rise of the Internet of Things (IoT), smart home security is a niche with massive potential.
Back in 2018, the smart home security market was valued at $2.14 billion, and it's expected to see annual growth of 19.6% to reach $4.37 billion by 2022.
You could capitalize on this growing niche by starting a website focused on smart home security devices like video doorbells and home CCTV.
There are home security products on Amazon, but there are plenty of service providers in the niche with high paying affiliate programs.
Alongside home security products, you could review home insurance packages and recommend insurance providers – lots of these companies provide a fee for each lead that you generate, so you don't even need to wait for a sale to go through before you earn money.
20. Cryptocurrency
Back in 2016, Bitcoin went from boom to bust in quick succession. Despite the crash, Bitcoin has seen a resurgence over recent years.
While we know that all cryptocurrencies go through significant fluctuations in value, they are still going to be here for many years to come.
For affiliates, this is a niche that has big potential. People are a little warier of investing since the crash of 2016, but there is still a huge demand for cryptocurrency.
It's also a niche with high commission. You can find plenty of affiliate offers for exchanges that offer commission of up to 50%.
Conclusion
All of the above niches can be profitable, but it takes hard work and dedication to make a success of any business.
When you're choosing a niche for your first affiliate website, look for a topic or activity where there's an existing audience, and where people are already spending money on products and services.
Follow the money.
If people are spending significant amounts of money on products in a niche, there's a demand that you can capitalize on.
With more and more people purchasing products and services online, there's never been a better time to get started as an affiliate marketer and make money online.
REFERENCES
The 20 Most Lucrative Affiliate Niches
The 20 Most Lucrative Affiliate Niches That Are Evergreen and Sustainable
Best Affiliate Programs In 2020
Best Affiliate Programs To Promote
43 of the Best Affiliate Programs That Pay the Highest Commission
Learn about the 42 affiliate programs with the highest earning potential